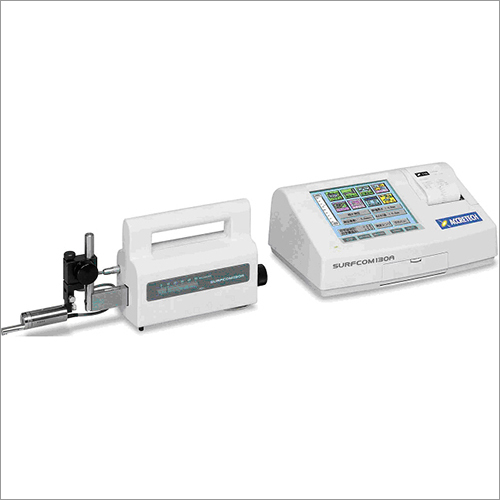 Portable Surface Roughness Tester
Product Description
The surface Roughness Tester manufactured, imported and supplied by us.is used to measure surface texture of steel and non-metal elements. The small and compact size makes it quite simply moveable. The artificial intelligence functions robotically opt for the best reduce off worth, measuring range and other stipulations. It's user friendly and helps vast range of styli options.

SURFCOM 130A make: ZEISS

Salient aspects:
High Flight performance in creation
Fine of sophistication Straightness Accuracy 0.3um/50 mm
Convenient change of fashionable
Large variety of styli options
50 mm traverse size, developed in datum airplane and huge measuring range detector
Selectable Amplifier liquid crystal display touch panel
Evaluation parameters catering to worldwide necessities
Synthetic Intelligence services robotically decide on the perfect cut off price, measuring variety and different stipulations. This automates dimension.
Host of evaluation capabilities- incorporates 34 forms of roughness and 32 waviness parameters.
Tilt Correction perform: Six form of computerized tilt correction are provided.
Evaluation range atmosphere- The waveform on the reveal is enclosed by two cursors, allowing the desired variety to be set and the parameters to be calculated.
PC Card Slot- Measuring conditions, measured influence management or measured information can also be output in binary and text format.
Specifications:

Measuring Range: X Axis- 50mm, Z axis - 800µ mm (Measuring range resolution: 800µm/10nm, 80µm/1nm, 8 µm/0.1nm)
Straightness accuracy: 0.3µm/50mm
Analysis items:
Standards: Complies with JIS-2001, JIS-1994, JIS-19822, ISO- 1997, ISO-1984, DIN-1990, ASME-1995, and CNOMO.
Parameters: Ra, Rq, Ry, Rp, Rv, Rc, Rz, Rmax, Rt, Rz,J, R3z, Sm, S, R ?a, R ?q, R ?a, R ?q, TILT A, Ir, Pc, Rsk, Rkpk, Rvk, Mr1, Mr2, VO, K, tp, Rmr, Tp2, Rmr2, R dc, AVH, Hmax, Hmin, AREA, NCRX, R, Rx, AR, NR, CPM, SR, SAR
Evaluation curves: Section profile curve, filtered waviness curve, filtered center line waviness curve, rolling circle waviness curve, rolling circle center line waviness curve, DIN4776 special curve, roughness motif curve, envelope waviness curve
Surface Characteristics graphs: Bearing area, curve, amplitude distribution (ADF) curve, power graph
TILT Correction: Linear correction, first half correction, latter half correction, both end correction, spline curve correction
Magnification : Vertical (Z-axis)- 50-100K Auto, Horizontal (X-axis): 1-5K auto
Detector : Tip radius 2µm, material diamond
Special functions: Artificial Intelligence functions, step analysis, PC card
Standard Accessories: Standard specimen, Recording Paper, Touch Pen, Instruction Manual