Roundness Testing Machine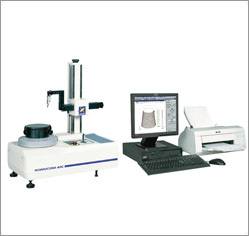 Roundness Testing Machine
Product Description
Roundness Testing Machine

Owing to the competencies of our skilled employees, our company has been able to supply, manufacture and import excessive fine Roundness testing machine - Rondcom 31/41. That is fabricated by way of our skilled experts utilizing top quality material as per the outlined industry requirements. This apparatus is suitable for measuring the polar and linear parameters of cylinders, straightness and concentricity objects. Moreover, provided Roundness testing machine - Rondcom 31/41 is available in quite a lot of different specifications.
Features:
User- Friendly
High performance
Minimum maintenance cost
Some of the sophisticated elements of Roundness Testers are:Absolutely automated detector holder (patent pending):

The thoroughly automated detector holder has two rotating axes: One for rotation within the horizontal aircraft (XY airplane), and one for rotation in the vertical aircraft (YZ airplane). Conventionally, the operator needed to align the detector with the measuring factor. This new holder absolutely automates this system, enabling automatic measurement of inner diameter, outer diameter, upper floor, shrink surface and taper floor (not obligatory). CNC machine with sophisticated cost performance, excellent as a Line-part analysis Instrument Load curve, amplitude distribution curve, energy graph, Fournier analysis and other functions facilitate robust floor analysis

Automatic Magnification Calibration function

This function allows the calibration of magnification when the stylus is changed to accommodate specific work piece profiles. The sensitivity for 4 varieties of detector can also be registered.

Computerized Eccentricity Correction/ Tilt Correction perform

Examining the eccentricity and tilting of labor piece in the measuring range and automatically correcting for it have dramatically decreased the time and effort wanted to perform alignment.

Regular high velocity photograph Printer

A high velocity graphic printer that uses recording paper with a recording width of 104mm instantly supplies a high- decision report of size. Due to the fact that more than a few measuring stipulations and parameter results are recorded while, it can be used as a datasheet.

Average IC Card Unit

The supply of an IC card unit enables all measuring condition settings and measured information to be stored. Specific packages which might be furnished in response to customer requests will also be loaded using the IC card unit.

Compact Table top Manual Roundness Testing Machine from Zeiss-TSK

Accuracy via mechanical precision
Designed for rapid, easy and designated completion of type measuring activites
Measure polar and linear parameters, e.g. Cylinders, straightness and concentricity, and so on.
excessive-quality axes with rotary desk on air bearings, optional 500 mm Z column (from Rondcom forty one)
Variable measuring variety and probing force
Ease of use
Semi-automatic procedures
CNC evaluation with printout
ACCTee professional with aid features for guide centring and levelling
Work pieces up to 25 kg